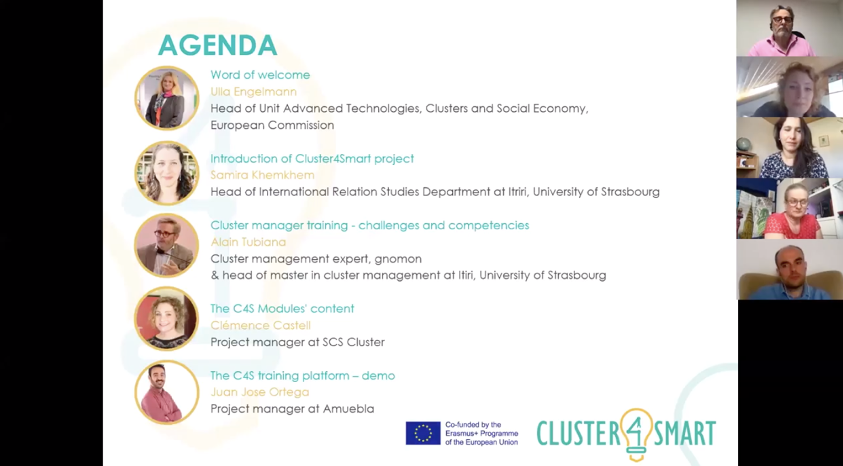 We are proud to announce that on 25th May we successfully held the final event -WEBINAR of the Cluster4Smart project.
The project consortium presented their achievements and the Cluster4Smart training course was officially launched too: the first online training programme for cluster managers towards a smart industry.
As for the number of attendees, more than 60 managers and staff of clusters and business networks showed many interest in cluster managers' training and the project Cluster4Smart.
We were honored to begin with inspiring words from Ulla Engelmann – Head of Unit Advanced Technologies, Clusters and Social Economy, European Commission – about the importance of the upskilling of the cluster managers for the European industries to face the today new challenges.
Then Samira Khemkhem – Head of International Relations Studies Department at Itriri, University of Strasbourg – introduced the Cluster4Smart project.
Alain Tubiana – Head of the Master programme in cluster management, Cluster management expert (gnomon)-presented us the new challenges and competences of the cluster manager occupancy.
The C4S Modules' content was presented by Clémence Castell – Project manager at SCS Cluster.
At the end of the webinar, Juan Jose Ortega – Project manager at Amuebla, made a demonstration of the Cluster4Smart training platform.
Here you can watch the video of the webinar:
https://www.youtube.com/watch?v=yqL4DR1Tfr8
Thank you everyone for your participation and questions!
And don't forget to create your account and start the course!
On the Cluster4Smart Training platform
We wish you a great training experience ?!
We hope that the Cluster4Smart training materials has reached its main goal: improve your skills in cluster managemen in the context of the 4th industrial revolution.