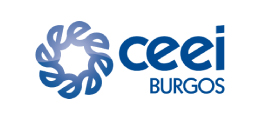 E-mail: This email address is being protected from spambots. You need JavaScript enabled to view it.
Phone: +34 947244332
The European Business and Innovation Center of Burgos (CEEI-Burgos) is a non-profit organisation that was created in 1994 and which is formed by the following partners: City Council of Burgos, Provincial Government of Burgos and the Federation of Burgos Managers Associations.
CEEI-Burgos is an active member of both the European Business and Innovation Centre Network (EBN) and the European Microfinance Network (EMN), working also under ESINET framework (European Space Agency Business Incubation and Technology Transfer programme), in such a way that it provides an excellent communication nexus among the existing nets. CEEI-Burgos is member of other organisations such as ANCES (National Association of Spanish BICs), PAIT (Spanish official network for creation of new companies under the SLNE regulation),
CEEI-Burgos is a consolidated organisation after several years of intense work in the field of advising and SMEs mentoring. Main services offered are the following:
Incubation facilities: 4.981 m2.
Entrepreneurs services (business plan, advising and mentoring).
Consultancy services (feasibility study, advising and mentoring).
Training and e-learning.
National and international co-operation.
Regional, rural and local development.
Renewable energies, biotechnology and innovative SMEs promotion and development.
Microfinance.
Social economy promotion.
YUZZ centre
Other services rendered by CEEI-Burgos are the following:
Support to the Burgos City Investment Attraction office.
Management of the Rural Development Programme (PRODER and PRODERCAL) of the Ribera del Duero Burgalesa (Burgos - Spain) 1997 – 2007. ERDF and EAGGF funds. PRODERCAL total budget is over Euro 7.000.000.-
Design and management of the "Cuatro Villas de Amaya" tourist product development in the west area of Burgos province.
Technical support to the Telecentres network of Burgos province providing them with contents through CEEI-Burgos e-learning platform
Seed finance facility – Burgos emprende+- oriented at Burgos innovative entrepreneurs and SMEs.
Agreement with National Institute of Employment (INEM) and Castilla y Leon Institute of Employment (ECYL) to promote self-employment and entrepreneurship.
YUZZ project: Annual programme in collaboration with Santander Foundation and the University of Burgos. CEEI-Burgos is working with a group of 20 innovative entrepreneurs along a seven months programme, training them with the objective of starting-up their own business at the end of the process.
e-Learning platform.
Intraemprender project: along with other four Spanish BICs this project concerns to the search of new business opportunities within the companies.
Other projects: EQUALBUR, Expoceei, Spanish BICs co-operation project…
The business sectors promoted by the organisation include, among others, green and bio economy, creative industries, IT, agriculture, agro-industry, tourism, logistics, transportation, machinery, construction, electric, environment, engineering services, computers, telecom, automobile parts...etc. CEEI-Burgos works efficiently with a wide range of sectors due to its adequate structure and clearly defined goals.
CEEI-Burgos has carried out different projects at international level in aligned to Cluster4Smart project, with the objective to foster the entrepreneurship and SMEs management. In addition CEEI-Burgos is expert on QA as it got the EU BIC label as quality system.
Main projects are the following:
INTERREG PROGRAMMES
BRIDGES project on bridging competence infrastructure gaps and speeding up growth and jobs delivery in regions, within the framework of Interreg Europe, starting on 2016 with a total budget of € 2.233.765.
ATM for SMEs, on access to microfinance for small and medium-sized enterprises, under Interreg Europe programme. This project started on 2016 with an overall budget of € 2.035.273.
DIFASS, on promotion and design of financial schemes for SMEs, under Interreg IVC programme with a total budget of 3.077.054.- Euros. 2013-2015.
ERASMUS+
Project Visconti (Viability Innovation Scientific Creativity oriented network for training and instruction), with a total budget of 330.000.- Euros. 2014 – 2016.
Open Up Entrepreneurship project, on innovative learning methodologies aiming for entrepreneurship training, with a total budget of 287.373.- Euros. 2015 – 2017.
UPPScience project, aiming at the creation of a Community of Practice for managers, teachers and trainers of STEM and IT subjects in Vocational Education and Training (VET), with an overall budget of 332.000.- Euros. 2016-2019.
EntreTOY project, on entrepreneurship training in education, with a budget of 258.000.- Euros. 2016-2019.
EntreVET, about cultural features in product design – Entrepreneurial initiative in VET training. Overall budget: 91.000.- Euros. 2016-2018.
LEONARDO DA VINCI PROGRAMME
Project DIAMEE on dialogical methodologies for entrepreneurs, under Leonardo da Vinci Transfer of Innovation programme scheme, with a total budget of 217.682 Euros. 2013 – 2015. CEEI-Burgos was the lead applicant and coordinator.
Project TOY.VET, on team coaching methodologies for entrepreneurs under Leonardo da Vinci Transfer of Innovation programme scheme, with a total budget of 206.990.- Euros. 2013 – 2015.
Inspire YoWup project, on entrepreneurs training methodologies under Leonardo da Vinci Transfer of Innovation programme scheme, with a total budget of 389.913.- Euros. 2013 – 2015.
Project e-Guide CWH&S, Innovative e-Guide in Construction Workplace Health and Safety, under Leonardo da Vinci Transfer of Innovation programme scheme, with a total budget of 250.000.- Euros. 2013 – 2015.
HORIZON 2020
Invest Horizon project, on investment readiness, under the call H2020-BIR-2014 with a total budget of 2.313.000.- Euros. 2015-2017.
Associate partners of ACE Creative project, pan-European network of business support organizations committed to providing expert services to ICT and creative companies across Europe. 2015-2016.
ALTERNER, LIFE AND IEE PROGRAMMES
CEEI-Burgos was also the lead applicant and co-ordinator of BIOBUSINESS project (Business opportunities in biomass sector for SMEs). Global budget 572000 Euros. 2008-2010.
CEEI-Burgos took part as partner in Core Business project (Promotion of Renewable Energies among communities). Recently working also as partner in RESINBUIL project (RE applications in buildings with a global budget of 600000 Euros), PROBIO (Biodiesel chain promotion with a budget of 965000 Euros), and HIDROSOLAR 21 (Hydrogen technology, budget 3300000 Euros). 2004-2007.