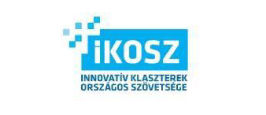 E-mail: This email address is being protected from spambots. You need JavaScript enabled to view it.
Phone: +36 30 229-3769
IKOSZ is a voluntary bottom-up association of some of the key business clusters in Hungary. The currently 10 clusters cover a wide range of sectors from traditional industries like wood and furniture (PANFA Pannon Wood and Furniture Cluster) and engineering/mechatronics (PANEL Pannon Mechatronics Cluster) to clusters working on sustainability and construction (ArchEnerg International Innovative Cluster for Renewable Energy and Building Trade), ICT (INNOSKART ICT Cluster), and packaging (OMNIPACK First Hungarian Cluster of Packaging Technology). Membership represents over 300 enterprises, municipalities, research institutes and universities.
The Alliance was formed in 2014 responding to the demand for a joint platform where Hungarian clusters are able to
pool their good practices,
develop closer cross-cluster and cross-sectoral business opportunities,
coordinate innovation initiatives among clusters and their members
maintain a single point of contact and service for cluster internationalisation and international cluster networks
establish a joint representation towards national and European decisionmakers.
In the course of its operation the Alliance has established working relationships with clusters and cluster associations in 17 European countries and overseas (South Korea and US), providing entry points and business contacts for internationalisation. Domestically it cooperates with county Chambers of Commerce, Enterprise Europe Network, relevant sectoral and entrepreneurial associations, and the Ministry for National Economy to establish a clear cluster policy and inspiring cluster/business development strategies.
IKOSZ is a strategic stakeholder in the INTERREG EUROPE project CLUSTERIX 2.0, which aims at developing policies for supporting new types of cluster-based innovation initiatives and a more streamlined cluster competence development enabling clusters to act as drivers of their regional economic ecosystems. Similarly IKOSZ, together with the Czech, Polish and Slovakian cluster associations is a project member in V4ClustGo, a project supported by the Visegrad Fund, dealing with cluster internationalisation issues in the region.
For cluster development support IKOSZ utilises "Cluster Games", a game theory-based cluster network analysis tool developed by Gedai-Kóczy-Zombori, and the Cluster Ecosystem Analysis methodology of Regex.
Members of IKOSZ are primarily Accredited Innovation Clusters in Hungary, and are among the most active, and most experienced actors in the country. Member clusters and organisations have implemented more than 30 international cooperation projects as partners or Lead Partners in different European programmes (cross-border AT-HU, HU-SK, HU-RO, HU-SRB, SL-HU, transnational: CENTRAL, SEE, DANUBE, interregional: INTERREG 4C and EUROPE, plus V4, FP7 and COSME).
IKOSZ itself participated as stakeholder/consultant/service provider in different EU granted projects. First application under own name has been submitted in the HU-SRB crossborder IPA programme. Some projects where IKOSZ has participated as stakeholder as follows:
ClusteriX 2.0 (INTERREG EUROPE, 2016-2021) Enabling clusters to act as regional innovation drivers in dynamic, open and connected innovation ecosystems through policy and practice adaptation
CLUSTERS3 (INTERREG EUROPE 2016-2021) strengthen the innovation and competitiveness 'enablers'; a better alignment of clusters, policies and projects with RIS3; overcome the disadvantage of SMEs dimension and make regional procedures and programmes more cluster-friendly.
ClusteriX (INTERREG 4C, 2014-2014) sharing and adapting good practices for implementing and supporting cross-cluster innovation.
ClusterPoliSEE (South-East Europe Programme, 2012-2014) enabling policymakers to design more robust cluster policies and more flexible support initiatives to complement smart specialisation strategies.